Profile: Fashion Icon Barbaros Şansal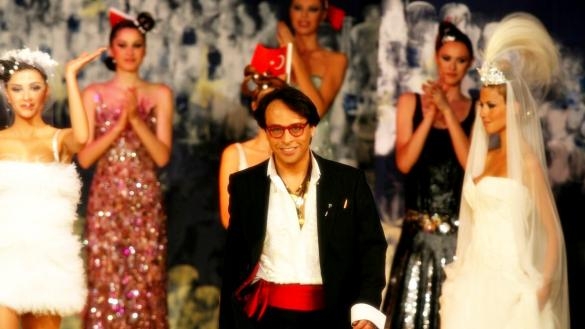 Barbaros Şansal is no ordinary fashion designer. Besides a life-long career in the fashion world, Şansal has used his abundance of energy in his role as an activist for a number of important Turkish and global causes while using themes from his activism as inspiration for his work and his fashion shows, including his latest show "2023'e Hikâyeler." A strong proponent for peace, a supporter of LGBT rights, and a public icon with a deep interest in local and regional politics, Şansal has a spark and flair in elocution matched by few, moving in conversation at breakneck speeds from the secret history of Turkish political figures to the Jewish Diaspora in the 21st Century. With his latest show "2023'e Hikâyeler" set to be held on the 20 November in the CVK Park Savoy Bosphorus Hotel, in Taksim Square, Istanbul, we are delighted to announce that we will be publishing exclusive writings of Barbaros Şansal.
Şansal discovered that his passion lay in the world of fashion at a young age, helping his grandmother with her knitting. Later, after spending four years studying at the world famous Royal Academy in London, Şansal continued his education in Switzerland before commencing his fashion career in the workshop of designer Yıldırım Mayruk where he worked as an assistant. Şansal founded Turkey's first fashion education workshop in the Eski Sinematik Hall on Sıraselviler Caddesi, Taksim, central Istanbul, but following the 1980 coup in Turkey, the political situation and uncertainty led to Şansal deciding to leave Turkey, once again settling in London. After returning to Turkey, Şansal became a partner of Yıldırım Mayruk Fashion Design Ltd., where he remains as one of the main designers of their products besides playing an important role in the business side of the company.
Not one to resign himself to the fashion world, Şansal is a familiar face at the meetings and activities of a number of causes concerning Turkey and the world in general. As an active campaigner in the peace movement, he has attended a number of major anti-war protests in Turkey, calling himself an "anti-militarist" in interviews to the press. Further to this, Şansal has been an active campaigner for LGBT rights in Turkey, calling for better protection for members of the LGBT community against hate crimes. Şansal's outspoken advocacy of LGBT rights has prov been the victim of an attack after an interview given to Sözcü newspaper where he defended gay rights.
Şansal took part in a number of actions in the recent Gezi Park protests, a protest movement that burst into life very close to his offices in the centre of Istanbul. As well as being present in and around the park in the first days of the protests, when a handful of activists were camping there to peacefully protest the government, Şansal offered shelter to members of the public fleeing the police, who were attacking anyone hey perceived to be a protester. Şansal however was not able to escape the wrath of the government for his support for the demonstrations, and was targeted by the government for his oppositional and independent political stance. On 3 August, he was taken from his apartment by two civil policemen to a detached house in the outskirts of Istanbul where he was questioned for two hours about his life by the men before being dropped back at his apartment. No motive was given for this, and for the duration of the abduction, no word of Şansal's whereabouts or condition was known. After declaring to the press that he had been kidnapped by the police, charges were brought against Şansal at the beginning of November for "fabricating a crime," which could carry a penalty as high as three years in prison.
Despite these recent attacks against him, Şansal has been able to maintain his position as a major figure in the Turkish and global fashion world, continuing his preparations for "2023'e Hikâyeler", Şansal's annual fashion show. The shows of the previous years have been groundbreaking spectacles showcasing a blend of elegance and innovation. With the momentous events of the past year to draw inspiration from, Şansal's latest show on 20 November looks set to be special even by his standards.