Turkey declares national mourning for Gaza casualties, recalls envoys to US, Israel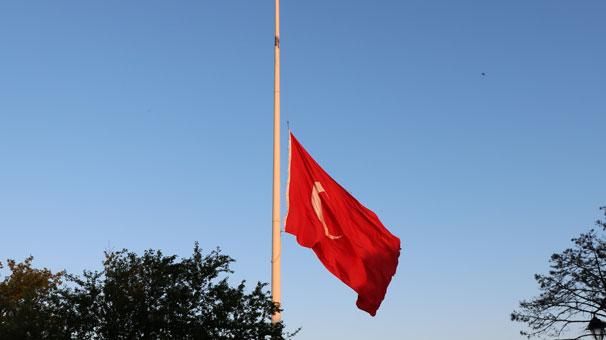 Turkey on May 14 declared a three-day national mourning following the killings of at least 55 Palestinians with fire opened by the Israeli forces along the Gaza border and has recalled its ambassadors to the United States and Israel for consultations.
"Turkey has recalled ambassadors from Tel Aviv and Washington for consultations," Deputy Prime Minister Bekir Bozdağ told reporters in Ankara following a cabinet meeting.
"Today will go down in the history as Bloody Monday for Muslims and Islamic countries," Bozdağ said, also adding that "the U.S. has violated United Nations Security Council decisions by opening its embassy in Jerusalem."
Meanwhile President Recep Tayyip Erdoğan said the country has declared a three-day national mourning.
"We declare a national mourning for three days, starting tomorrow, to stand in solidarity with our Palestinian brothers," Erdoğan said, addressing students in London.
"Israel is a terror state," the president reiterated.
Labeling the killings on May 14 a "genocide," Erdoğan also said a big rally is set to be held on May 18 in Istanbul as a sign of solidarity.
"I will be speaking with several leaders including [Mahmoud Abbas] and the U.N. Secretary General," Erdoğan said.
The Turkish Red Crescent as well as the Disaster and Emergency Management Authority (AFAD) have begun preparations to bring aid to the victims, he added.
'A cowardly massacre'
"This is a cowardly massacre and we strongly condemn it," Prime Minister Binali Yıldırım told reporters at Esenboğa Airport in the Turkish capital.
Yıldırım said there were around 2,000 people injured during the demonstrations.
"International law has been ignored so to speak and [...] the decision to move the embassy has been stubbornly carried out," he said.
"Turkey condemns this decision one more time and declares it null and void," Yıldırım added.
"As Turkey, we stand together with our brothers until Palestine gains its freedom," the prime minister said.
At least 55 Palestinians killed
Israeli fire killed at least 55 Palestinians during mass protests along the Gaza border on May 14, marking the deadliest day of violence there since a devastating 2014 cross-border war and casting a pall over Israel's festive inauguration of the new U.S. Embassy in contested Jerusalem.
In a show of anger fueled by the embassy move, protesters set tires on fire, sending plumes of black smoke into the air, and hurled firebombs and stones toward Israeli troops across the border. The Israeli military claimed its troops had come under fire. It said troops shot and killed three Palestinians who were trying to plant a bomb.
The relocation of the embassy from Tel Aviv, a key campaign promise of U.S. President Donald Trump, has infuriated Palestinians, who seek east Jerusalem as a future capital.
"A great day for Israel!" Trump tweeted early on May 14.
The day marked the biggest showdown in years between Israel's military and Gaza's Hamas rulers along the volatile border. The sides have largely observed a cease-fire since the 2014 war—their third in a decade.
Kaynak: Hurriyet Daily News