Turkey to set up safe zone in Syria: Erdoğan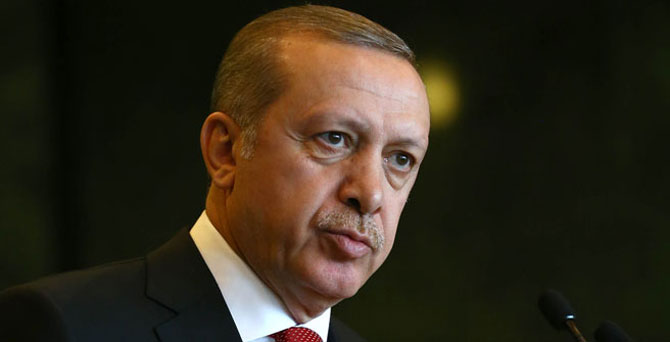 Turkey will set up a safe zone 30 kilometers deep into northeastern Syria, President Recep Tayyip Erdoğanhas said, a move suggested by President DonaldTrump, adding that the two sides' teams will continue to discuss the technical aspects of the proposed measure along the Syrian border.
"Mr. Trump once again confirmed his decision to withdraw from Syria. He also spoke about a security zone more than 30 kilometers deep inside [Syria], which would be set up by us, an issue that I had raised during the Obama administration," Erdoğan said during his weekly address to his parliamentary group on Jan. 15 in Ankara.
Erdoğan expressed his hope that he reached an understanding of historical importance with Trump during a phone conversation late Jan. 14, following the latter's threat on Twitter that the U.S. would "devastate Turkey economically if they hit Kurds."
"This tweet has saddened us. Why? Because we are strategic partners. We may have different positions on some issues but we should be locked on the same objectives," Erdoğan said.
Turkey and the U.S. are at fresh odds over the latter's remarks that the Turkish government should give assurances that it would not attack the YPG after the withdrawal of American troops. Trump, in his tweet, revisited the idea of setting up a security zone inside Syria in order to address Turkey's security concerns without giving any detail on its modalities.
Erdoğan and Trump spoke over the phone late Jan. 14 to discuss recent developments in Syria in light of the latter's tweets, which irked Ankara because the U.S. had "conflated Kurds with the YPG." A read out by the Turkish Presidency suggested that both leaders emphasized the completion of the implementation of the Manbij road map in order to prevent any void that could potentially be opened in the region and that the elements which seek to hinder the implementation of the withdrawal decision should be denied any opportunity.
They also discussed the idea of forming a terror-free safe zone in the north of Syria on the basis of Syria's territorial integrity.
Turkey's presidential spokesperson İbrahim Kalın said at a press conference on Jan. 15 that "the issues of economic threats have been left behind as they were concluded nicely during the phone call" between Erdoğan and Trump.
On Jan. 15, Erdoğan said Turkey is considering Trump's safe zone proposal as a positive one but also recalled that Turkey's earlier attempts to realize such a measure was rejected by the Obama administration.
"We had suggested securing the ground if the U.S. would provide aerial protection. [Barack] Obama did not take the necessary steps on it although he was in favor of it," he said.
YPG 'should be cleared of secure zone'
Erdoğan said that in order to be able to talk about a security zone, the enclave must be cleared of the YPG. "Can the YPG take part in such a project? They are terrorists. Can we leave this area to the terrorists? For us, there is no difference between Daesh and the YPG/PYD," he said, using the Arabic acronym for ISIL.
Erdoğan said detailed talks were needed between the two countries to define what logistics would be provided by the U.S. or other coalition partners not only for securing the area but also for reconstructing the area for the return of Syrian refugees.
"We can be involved in this with our TOKİ [Turkey's urban development agency]. But if a financial support would be provided by our coalition partners, we can establish this secure zone and provide security for all these people. This would also stop migration," he stated.
Positive dialogue with Trump
Erdoğan stressed that his latest conversation with Trump was positive and covered issues beyond Syria and other matters concerning bilateral issues.
"We have decided to take comprehensive and speedy steps to increase our trade volume to $75 billion. Therefore, we could strengthen our joint perspective in spreading the positive spirit on our ties over Syria to the economic sphere as well," he stated.
Meeting with Putin on Jan 23
Erdoğan stressed that his planned meeting with Russian President Vladimir Putin would take place on Jan. 23 under the Astana Process format that includes Iran as well. Idlib is also another issue that Turkey is closely following with Russia and Iran, Erdoğan stated. "God willing, we will resolve all the troubles and we will turn Idlib into a place of comfort and trust like the other provinces we are supporting."
Kaynak: Hurriyet Daily News