Turkish foreign minister calms down Greek counterpart over low flying jets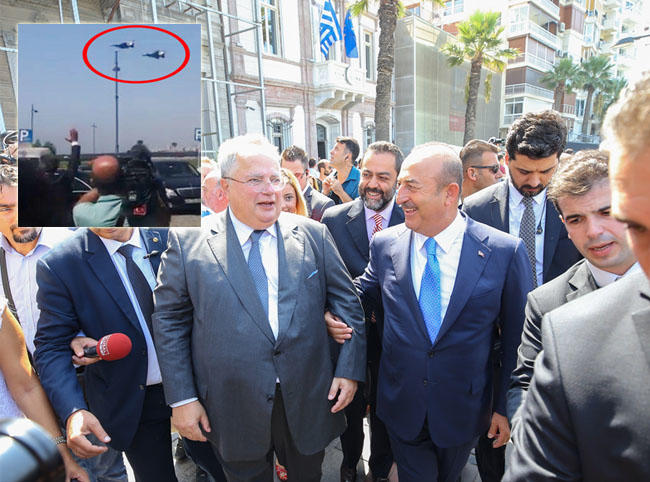 The meeting between the foreign ministers of Turkey and Greece was briefly interrupted on Sept. 4 when low flying Turkish acrobatic jets surprised the Greek minister, who was calmed down by his Turkish counterpart. 
Turkish Foreign Minister Mevlüt Çavuşoğlu and his Greek counterpart Nikos Kotzias have met in the western Turkish city of İzmir for the inauguration ceremony of the renovated building of the Greek Consulate General.
The two ministers stressed their efforts to improve cooperation and dialogue between the two countries.
During the press conference, noise from the low flying Solo Türk acrobatic jets filled the room at one moment.
When the Greek minister anxiously pointed to the sky, Çavuşoğlu calmed him down with a smile, telling him there was nothing to worry about.
Solo Türk jets were in a test flight ahead of their upcoming show for the 96th anniversary of İzmir's liberation from the Greek invasion in the aftermath of World War I.
The two foreign ministers are to discuss United Nations Secretary-General Antonio Guterres's preparations for launching a new initiative for the political settlement of the Cyprus problem at the United Nations General Assembly later this month.
They will also review the two sides' approaches on coordinating Turkey's future hydro-carbon exploration activities off the island.
Kaynak: Hurriyet Daily News